Table Tennis was introduced to the summer Olympics in the year 1988 for the first time ever at the Seoul Olympic Games for men and women with both singles and doubles events. It was never played as a demonstration sport at the Olympics.
The Indian table tennis team which went to play their very first Olympics was comprised of three players, two men's and a women's player, and the paddlers were Indian legend Kamlesh Mehta, Sujay Ghorpade, and Niyati Roy.
Since the beginning of the Olympics, China has been the only country to consistently win and take home the gold medal. They always had been the most dominating Asian country, with a total of 53 medals at the Olympic Games. The second most Olympic medal-winning nation is South Korea with 18 medals and then Germany has a total of seven medals.
So far, India has not been able to reach the Olympic podium finish. Though we had some of the world-class table tennis players from India.
Sharath Kamal is the only Indian player among the team of four who is going to compete for the fourth time at the Olympic Games that's Tokyo 2020 Olympics. Not only this he is also one of the top table tennis paddlers India has ever produced.
Due to the ongoing Covid-19 crisis in the World and India also being critical, Olympic Games were postponed to this year instead of the previous year, while last year i.e. 2020 was the actual year of the Olympics.
Also, amid Covid Indian players have suffered a lot whether it's Indian national tournaments that couldn't happen or it is Tokyo Olympic Games training or their fitness workout training. They have battled their isolations and other struggles nicely and peacefully, now when only a month or more is left for the Tokyo Games, the team is training extremely hard as each paddler has only one goal now, which they are much focused on, getting an Olympic medal and creating history.
This year a total of four Indian paddlers have qualified for Tokyo 2020, they are Sharath Kamal, Manika Batra, Sathiyan Gnanasekaran, and Sutirtha Mukherjee.
This is the first time ever when a mixed doubles event is included at the Olympic Games.
Here at JustGamblers, we have talked about all the four qualified Indian table tennis players for the Tokyo Olympics and predicted what are the chances, and who is more capable of getting an Olympic medal home this year.
Sutirtha Mukherjee
This year is supposed to be the Golden year for former table tennis national champion, Sutirtha Mukherjee who hails from West Bengal Calcutta, as she has a chance to prove herself as one of the best Indian women's table tennis players from India at the Tokyo Olympic Games. She upset Manika Batra, the current leading Indian paddler by 4-2 to qualify for the Olympics and proved herself absolutely right. Sutirtha is having a golden opportunity, she can achieve what others have not been able to do in the Table Tennis Olympics so far.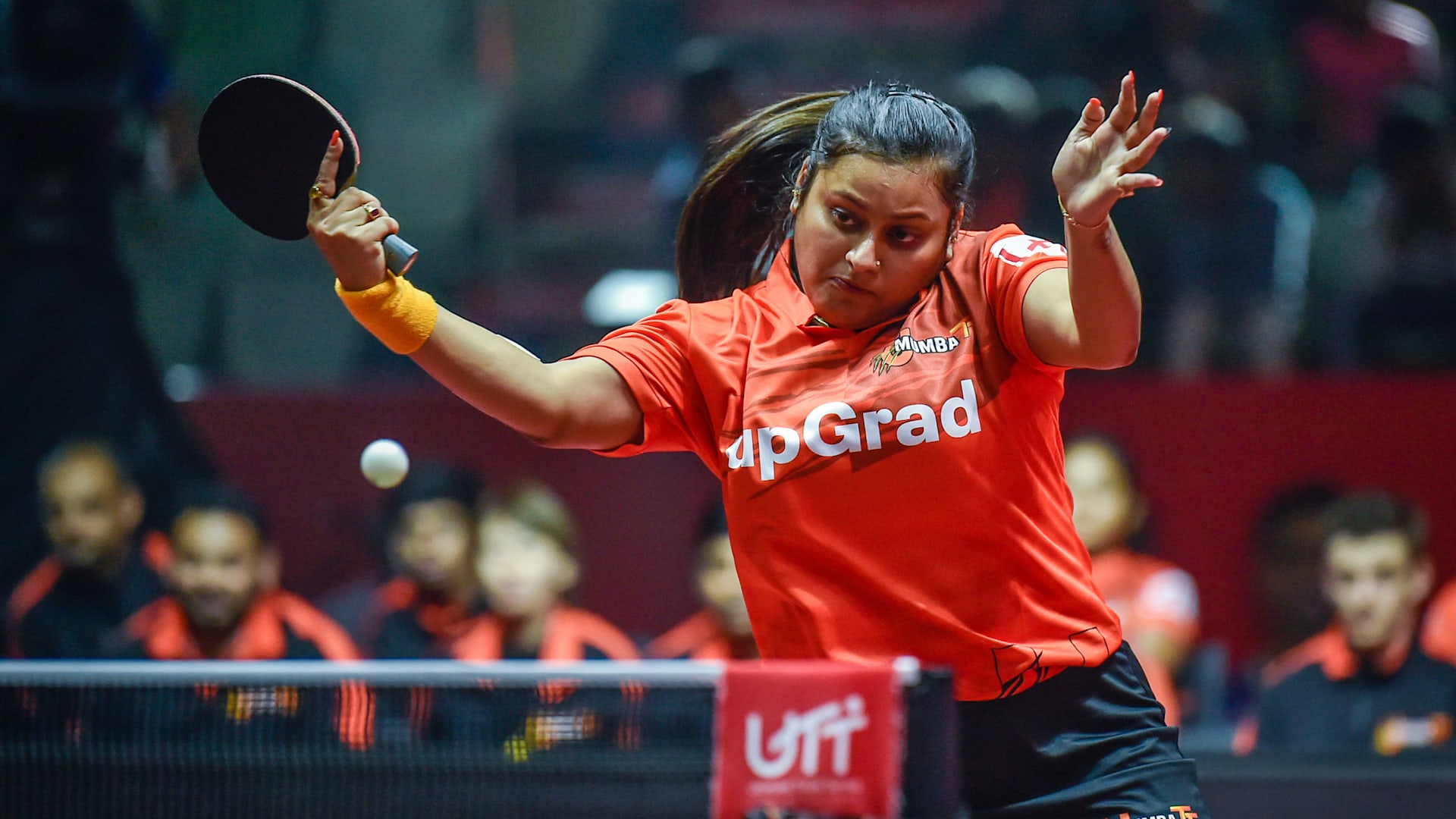 She was really curious and nervous at the same time for the table tennis Olympic Qualifiers which held in Doha, Qatar two months back as this was going to be the first time in her career so far, her winning and qualification was very important because everyone does not get this opportunity again and again, And she wanted to fulfill her Olympic dream with leaving no stone unturned.
Sutirtha Mukherjee was born on 10th October 1995, was introduced to the sport by her mother Nita, an indoor sports lover in her hometown Naihati at a club.
She started taking her basic table tennis training with her childhood coach, Mihir Ghosh and as she started understanding the game with better learning, Mukherjee later got shifted to national coach Soumyadeep Roy and Poulomi Ghatak.
Two years ago, Sutirtha's ranking was 502.
She jumped 14 ranks to a career-high ranking of 95 in September of last year. It was Sutirtha's first time ever when she entered the top-100 rankings. She is now ranked No. 2 in India, behind Manika Batra, the second top Indian paddler, although she has steadily risen in stature and rankings since last year.
Sutirtha is a right-handed shakehand grip paddler. She is an offensive player who is extremely attacking on the table, whereas her favourite and also her most dominant attack is the backhand smash. Her first major international tournament was in 2013 when she represented India in the Women's World juniors championship, and since then she never looked back.
She became the senior national champion in the year 2016 for the first time and for the second time again in 2020, which is the last year. Sutirtha was part of the Gold medal-winning Indian table tennis team at the 2018 Commonwealth Games, held at Gold Coast.
She also had a chance to qualify for the Rio Olympics,2016 but she somehow could not, that's why the Olympic Games became her main target and she managed to qualify successfully for Tokyo 2020. She was also part of India's biggest and most premium table tennis event, the Ultimate Table Tennis League. In the previous season, that's the 3rd season in 2019, Sutirtha beat Germany's world No. 20, Petrissa Solja while playing for the club U Mumba.
She has got a lot of experience playing this league, and also got great exposure during the league, as it's creating its space among Indian fan's hearts. They get not only to play against some of the top-notch world highest players but also to learn their techniques, style of play, schedule and so much more during their training and stay.
Sutirtha dedicates her whole journey from road to the Tokyo Olympic Games to her mother, who is an ardent indoor sports fan.
She got a two-year ban long back due to being the age fraud suspect but rather getting a downfall in her career, Mukherjee comes a long way.
The 25-year-old is not having much international arena experience with her and also a lower-ranked player compared to her compatriot, so she has an extremely rare chance to even reach the semifinals, however, if luck goes with her.
Sathiyan Gnanasekaran
Sathiyan Gnanasekaran, who hails from Chennai, Tamil Nadu is an Indian ace table tennis paddler Who has been creating history in this game for the last few years.
He is the first and only Indian table tennis player ever so far to reach the top-25 in the World, i.e. World ranking 24 in ITTF.
In the last few years, he has become one of the most prominent names among the Indian sports community as an Indian paddler, in which he had massive achievements and career wins. Then whether it's Sathiyan's becoming the first Indian to win an ITTF tour open title in European soil at Belgium Open in 2016 or clinching three medals in his debut Commonwealth Games at Gold Coast, 2018. Also, when he had the biggest win of his career which is when he defeated the former World rank 3, Japanese legendary,
Tomokazu Harimoto in straight sets at the Asian TT Championships 2019.
Like every Indian sportsperson, Sathiyan also had the same dream since childhood that he wanted to represent his nation at the Olympic Games which is the biggest sporting event in the World. And then also, that he wants to bring an Olympic medal home so that one day he can make the whole nation proud of him and also that this whole world recognises India's first-ever table tennis medal at the Olympics in history. After all, we all know that if table tennis needs to become such a sport which every Indian dreams of, for this to make possible an Olympic medal is a must.
"There may be people that have more talent than you, but there's no excuse for anyone to work harder than you do", and that's exactly what 28-year-old, Sathiyan Gnanasekaran believes. His hard work and dedication towards table tennis since he started playing was tremendous, also his love for the sport, and also due to his enthusiasm towards sports of doing something for the country, today he has achieved this success.
In his sporting journey from road to the Tokyo Olympics, Sathiyan had faced a lot of struggles and fought with obstacles that came in his path but even then he never stopped and looked back rather he went on to attain his aim, an ultimate goal which is to win an Olympic medal for his beloved nation.
"I believe the element of surprise is vital to stay in the race for a podium finish at the Olympics. That could only be possible if I'm technically strong. I'm working to improve variation in my service which is an important aspect of training to score points during crucial junctures of the competition," said the Arjuna Awardee, Sathiyan Gnanasekaran.

"I hope I can really put up a strong show in Tokyo and who knows... if I can go all the way and win a medal for my nation, that would be something historic." He added.
Sathiyan is a legendary table tennis player of the country, and he has had a marvelous and remarkable career so far, he is only winning and hardly losing to reach the podium finish. He's one of the aims is also to breakthrough into the World's top-10 of ITTF rankings.
He is currently World no. 37, and he has upset many top-notch paddlers around the world, who belongs to the top-10 rankings, and also he has great wins under his name recently, the chances are fair for him of winning the medal at upcoming Tokyo 2021.
Manika Batra
Manika Batra, India's one of the finest ever players, and Rajiv Khel Ratna awardee who created history and also has many a first to her name. She is also known as India's golden girl as she created history and left the whole of India including the table tennis fraternity in shock with India's first-ever gold medal at the Commonwealth Games, 2018. She became the first Indian woman table tennis player to win an individual gold medal at the CWG Games. She also led the team India reach podium finish after upsetting 4-times gold medalist from Singapore.
Manika is the most prominent table tennis player that India ever had who hails from Delhi. She is recognised by worldwide table tennis communities and also made her a huge fan following. She started playing at a very early age when she was just 4-years-old, by watching her elder brother and sister that's, Sahil and Anchal respectively. She got motivated and influenced by them.
While growing up, a lot of modeling offers knocked on Manika's door but she always straight away refuses all of them because she only had a dream and an aim that she wanted to achieve what others didn't, she wanted to help the Indian table tennis team reach the top so that Indian team can be globally recognised and also a lot of youngster in India and even abroad start playing and choose table tennis as their career.
She did prove it well, today almost every fan of hers, those who had never even thought of being a paddler and also those who lost the belief in themselves admire Manika as their role model and she became an inspiration for our future stars.
Although Manika has a lot of international achievements which she bagged during her laborious career, but one of her notable achievements was when she made a hat trick and clinched three gold medals and a silver medal in the singles event at South Asian Games, 2016. Then ahead of SAG, Manika did extreme hard work and never looked back, sacrificing her lot of favorites to be India's most favourite sports person. In the year, 2018 she also reached her career-best ranking of 52, this boosted Manika's confidence to the next level and she had marvelous gameplay at CWG Games, where she won a total of four medals including 2 golds, 1 silver, and a bronze.
Later comes her biggest ever achievement which has also been registered in the history of Indian table tennis, 2018 Asian Games silver medal in mixed-doubles event pairing with legend Sharath Kamal beating the South Koreans in the round of 16.
The same year, Manika Batra received two of the big awards of her life. She was conferred with the Arjuna award for her tremendous achievements and she was also chosen for the ITTF Star table tennis player breakthrough award of the year.
The 25-year-old is currently ranked World no. 63 but still she is the highest-ranked female paddler from India even as of now. Manika's dedication and perseverance have made India proud many times, and she made table tennis fans feel extremely proud of her when she was conferred by the Rajiv Khel Ratna Award, which is the highest sporting honour of India.
At the Tokyo 2020 Olympic Games, she is having more likely chances to reach the quarter-finals of the women's singles event but quite high probabilities of winning a medal in the mixed doubles event with her partner Sharath Kamal. The duo can surely make us proud if we will be fortunate enough.
Sharath Kamal
Achanta Sharath Kamal, India's legendary table tennis player from the same city Chennai where his Tokyo Olympics compatriot Sathiyan belongs to. The 37-year-old young paddler, who started playing even much before is so far known as the best Indian table tennis India has ever produced.
Sharath Kamal has a huge fan following not only among Indian kids and adults but also has enormous fans in Dusseldorf and Germany as he plays for one of the top-notch Champions clubs, Borussia Dusseldorf at German top league, Bundesliga.
He has played against the World champion many a time, like Ma Long who is a Chinese table tennis beast, and Timo Boll who is from Germany, also his Bundesliga club compatriots are one of the top ITTF ranked players. Also, he has huge experience in the international arena.
Kamal earlier this month mentioned that he has hope of winning a medal for the nation at the Olympic Games this time, mainly in mixed doubles with Manika Batra.
"Back in 2004, I had a dream of winning an Olympic medal for my country and 17 years later, I am sitting here with the hope it is actually going to turn into a reality," said Sharath Kamal at a virtual media interaction facilitated by the Sports Authority of India.

"The nation's dream of winning a medal in table tennis can come true, especially in mixed doubles where a medal is just three rounds away," he further added.
The 38-year-old, Kamal stated that his confidence was boosted in the 2018 Asian Games medal. He looks pretty confident this time as well having hopes of winning an Olympic medal.
"The Asian Games bronze medal that I won partnering with Manika in Jakarta made me believe that if we can do it in the Asian Games, we have a fair chance at the Tokyo Olympics as well as Asia is a powerhouse and the best teams are from the continent. So, when you bag a medal in the Asian Games, you get that confidence that this is so far going to be the best ever Olympics in aspects with performance and results," he added.
Talking about his partnership with Manika Batra, Sharath Kamal said they have had really good sessions in the recent weeks and had also worked on some aspects like footwork and coordination, where they complement one another.
For this Olympic cycle, Sharath Kamal was inducted into Target Olympic Podium Scheme (TOPS) in December 2018 for which he was provided with the financial support of close to Rs 50 lakh, with most of his finances being sanctioned towards the cost for international tournaments, fee for support staff, expenditure for equipment, and Out of Pocket Allowance.
Two years back on July 4th, the Ministry of Youth Affairs and Sports (MYAS) had authorised a budget of Rs 12.13 crore to the Table Tennis Federation of India (TTFI) under the Annual Calendar of Training and Competition (ACTC) until September 2020.
The TTFI has permitted a new budget of Rs 7.77 crore until March 2022. Tokyo2020 is going to be Achanta's fourth Olympic Games but he would compete in two events for the first time that's Men's Singles and Mixed Doubles.
Being an Asian Games medalist and the most experienced senior Indian table tennis player, Sharath Kamal has a better chance to bring an Olympic medal home. We believe in the singles event, chances are less of winning a medal, whereas, in the Mixed Doubles event, Manika Batra and Sharath together can surely bring a medal home if fixtures would be in favor of team India.